The Advantages of ID Card Printers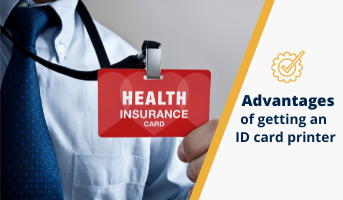 Our ID Card Printers can be used in a variety of ways in business.
We sell a range of solutions, whether you need to print employee or access control badges, loyalty cards, student IDs, payment cards, identification documents, passes for transport and events, national ID cards, student cards, and much more. Selling the best ID Card Printer to meet your needs
Plastic ID cards can help improve the security of your company in many ways. For example, they could be used to restrict access to specific personnel.
We provide a variety of plastic ID Card Printers to suit all applications, each with its own set of features to best fit your needs. It is critical to understand the options and benefits of ID card printers before acquiring one.
Some of the issues to consider include:
1. ID card Printing Volume
If you have an increasing number of cards to print per day, investing in an ID card printer is a must. It is important to calculate how many plastic cards you will print each day or each year. If you anticipate a high volume of cards, you may want to choose a high-performance printer that has the capacity to print more cards per hour than a more affordable model to reduce your production time.
For example, in our Evolis ID printer range, the Zenius printer can print 120-150 per hour, but the Primacy Simplex printer can print 240 cards per hour, available in-store for a slightly higher price.
2. Single or Dual-sided ID Card printing
Single-sided printers are perfect for simple ID cards when a small amount of the cardholder's data needs to displayed. We suggest our Magicard Pronto100 Single Sided ID Card Printer, which is perfectly adapted for this utilisation.
Dual-sided ID card printers allow both sides of the card to be printed at the same time. When a large amount of data needs to be displayed on the card, these printers are recommended. We suggest our FARGO DTC1500 ID Card Printer which is ideal for this purpose.
3. Quality – ID Card Printers
Our ID card printers also make it feasible to have excellent lamination which is required for card security and durability by adding additional protection.
4. Encoding
We offer a range of options for encoding.
Our Primacy and Zenius printers offer the following options to encode ID Cards:
Magnetic ISO encoder
Smart Contact station + smart contact (or Dual) encoder
Contactless encoder including antenna
5. Cost-effectiveness
Our range of ID Card Printers can guarantee a smart, cost-effective investment in your print systems, and our sales team is on hand to help choose the best ID card printer for your needs.
In addition to being cost-effective, you can also benefit from one of our printer bundles, including the printer of your choice, ID Card Software, and all necessary accessories, such as ribbons, lanyards and ID Cards, at an attractive price. We recommend the Evolis Primacy GO GREEN Duplex Printer Bundle which includes free ID Card Software, ID cards, and ID card printer ribbons.
6. Warranty
All of the ID card printers we sell come with 2-3 years of warranty. The great majority, however, include 3 years of coverage. Visit our Service and Support page for more information about warranty, before buying an ID Card Printer.
7. Free Assistance
Our in-house technical support team is available to assist you in setting up your printer and can come to your premises depending on your location in Ireland. Our team can also provide free assistance and advice by telephone, email, or live chat through our website.
Other Advantages?
Easy to use: easily control the printer from your computer and receive notifications
Customer data is encrypted and is not stored in the printer
Fast print speeds to increase productivity
Reliable: provides outstanding performance and unrivaled quality from the leading brands in card issuance
Flexible: print from your own premises and customise to highlight your brand
Eco-design: very efficient sleep mode and low energy consumption
Don't hesitate to contact our team at +353 1 460 2200.
Shop ID Card printers at: www.dbcgroup.ie
Get more information and answers to your questions at: Guide to ID Card Printers