Personalised Binding – Image Strips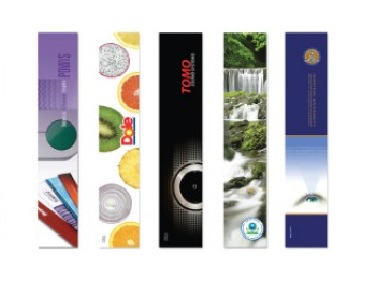 The Powis Parker Image strip represents a new level of binding for the Fastback 20 automatic binding machine. An image strip is a personalised binding strip that has an image printed on it. The image can consist of your company name, logo or photographs. It will enhance and promote your brand and ensure your bound documents or presentations will stand out from the crowd. Ideal for tender documents, proposals and presentations, image strip binding is the perfect solution for personalising bound documents in house.
Two Types Of Personalised Binding Strips
There are 2 types of personalised binding strips: the blank image strip and the custom image strip. The blank image strip allows you to personalise each strip to make each presentation unique. The custom image strips allows you have branded strips off the shelf. Instead of using generic coloured strips the custom image strips gives your presentations more impact by having your company logo or identity on each strip which will ensure your documents stand out from the crowd.
Want to Know More About Personalised Binding Strips?
How about arranging a FREE demonstration on the Powis Parker Fastback 20? Our experts will be happy to help you when it comes to choosing the best personalised binding option for you. Simply click here and we will contact you!
So what are you waiting for?
Improve your company's corporate image and document creation process with this great Fastback product today!