School Book Covers – Automatic Book Covering Machine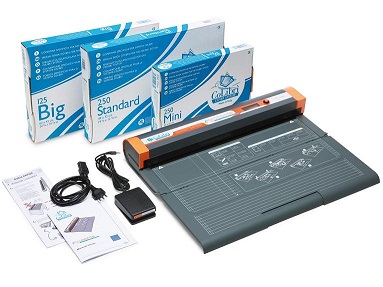 Applying Your School Book Covers is Now Easier Than Ever Before.
Without using glue or adhesives, these school book covers do not change the original book in any way and can be changed and replaced at any time. They have been specially made for soft smooth custom-fit welding every time.
This makes it ideal for revamping rental or library books by simply adding a new cover to the old book and giving the next owner the feel of a new book every time.
Benefits of Using CoLibri for Your School Book Covers:
Only four sizes needed for all your school book covers – Big, Standard, A4 1 cut and Mini.
The CoLibri Cover System is small and compact, requiring minimum display and storage space for both the covers and the machine. The boxes are designed so that they can sit on top of each other and the covers removed as needed from the front of the boxes.
The CoLibri Cover System is easy and safe to use. Staff can be trained to use this system in just five minutes. No scissors, glue or blades are needed to produce a perfect custom-fit cover every time.
The CoLibri Cover System uses 100% transparent covers for easy recognition of book titles.
The CoLibri Cover System does not mark or damage the original book cover. This makes it easy to remove covers without damaging the original book in any way. By covering more expensive stock on receipt, booksellers can reduce the number of price reductions they have to make for damaged stock. In the unfortunate event of a book not selling, the cover can be easily removed before the book is returned in mint condition to the supplier for credit.
Still Unsure?
Sign up for a FREE no obligation demonstration on this automatic book covering system today!